World Patient Safety Day 2021
NEWSLETTER
In 2021, WPA ran the largest WPSD campaign globally with
over 800

events organized all over the world.
Read more about it below!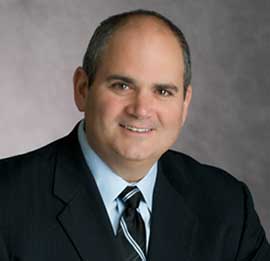 Message from the Chairperson
Patient Safety and Quality Committee
The World Patient Alliance established the Patient Safety and Quality Committee to focus on promoting better quality and safer practices in health care around the globe. The members of the committee, below, were selected for their experience and commitment to this goal.
MEET THE COMMITTEE
World Patient Safety Day Campaign: Safe Maternal and Newborn Care
World Patient Safety Day (WPSD) is observed globally on September 17 every year. The objectives of WPSD are to increase public awareness and engagement, enhance global understanding, and work towards global solidarity and action by all stakeholders to improve patient safety. The theme of WPSD 2021 was "Safe Maternal and Newborn Care" and all stakeholders were urged to "act now for safe and respectful childbirth!". Maternal and child mortality is one of the major health issues of the current times. Every day we lose 810 women due to pregnancy-related complications, 6,700 newborns lose their lives, and there are 5,400 stillbirths globally. The tragedy is that most of these deaths are avoidable through the provision of safe care.
WPA ran the largest WPSD campaign globally as over 800 events organized all over the world. This newsletter presents highlights of these events.
WPSD Regional Webinar Series
WPA organized a regional webinar Series in the month of September 2021, some of which are described here.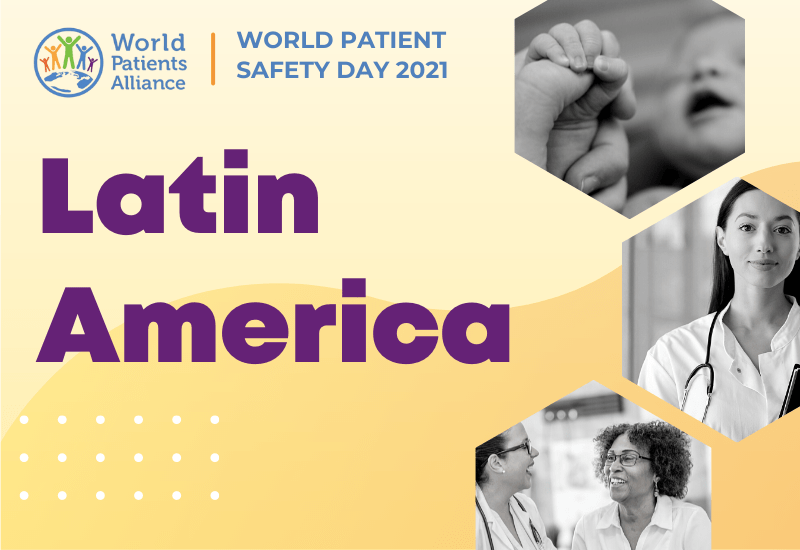 The Spanish-language WPSD webinar for Latin America was held on September 9 at 12:00 CDMX time, Mexico. The webinar was organized by Helen Haskell and hosted and moderated by WPA board member Karla Ruiz de Castilla and the Peruvian NGO Esperantra. Technical support was ably provided by Haris Khalid of WPA and Alessandra Tarrillo of Esperantra. More than 100 patient advocates and organizations from throughout Latin America registered for the webinar.
WHO country office and Community Health and Information Network (CHAIN) organized the AFRO region webinar. The event was a scientific meeting of 20 people at Golden Tulip hotel, Kampala with 100 online participants from all over Africa, which included officials from MoH, JICA head office, WHO, international and regional participants, regional referral hospitals and other facilities. It was moderated by Dr. Joseph Okware, Director, Governance and Regulation.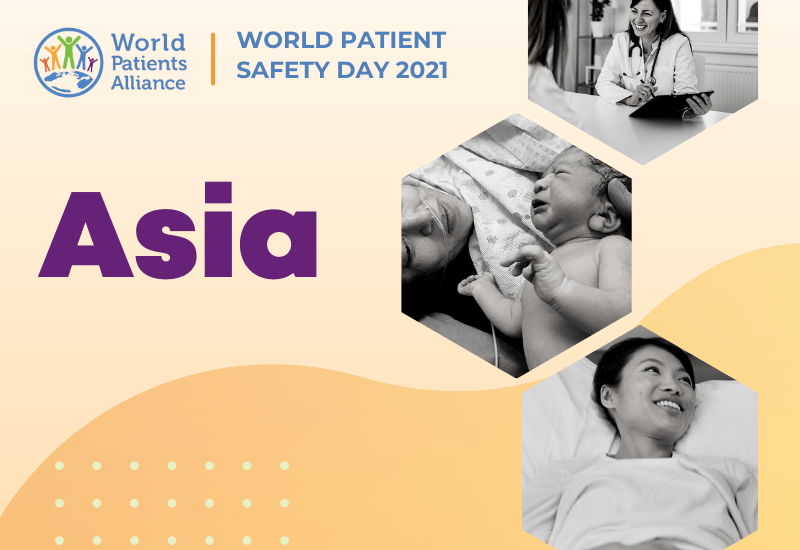 On Sept 13, 2021, the WPA Regional Webinar on WPSD was held for the Asian Region (including EMRO). It was a very successful event in which renowned speakers from the region participated, including WHO regional officials, patients' safety experts, and patient advocates from all over the region. Hussain Jafri, founding WPA Board member, moderated the webinar. The webinar was attended by over 170 patient advocates and organizations from the region.
WPSD Activities & Events
In addition to offering webinars, many WPA organizations held seminars and other events highlighting the impact of unsafe practices, particularly in maternal and child health. An important element of the sessions was to energize participants to take action within their communities to redress safety failures.
Here are some of the activities that took place this year. 
Pakistan
Patients & Community Mobilization Sessions
The Jahandad Society for Community Development (JSCD), in collaboration with WPA developed a comprehensive campaign and conducted more than 768 patients & community mobilization sessions to create awareness about safe healthcare and rational use of medicines.
India
The National Thalassemia Welfare Society (NTWS), in association with the Genomics and Public Health Foundation and Youth Thalassemics Alliance, organized a webinar on 19th September to mark the 3rd WPSD to support WHO Global Campaign on Patient Safety.
Nepal
Cancer NGOs Federation (CANFED) Nepal, the umbrella organization of cancer NGOs in Nepal invited all member organizations and other stakeholders to participate in a 2 kms awareness rally, which drew 121 participants, which included local government representatives, health workers, students, teachers, journalists, women's groups, Lions Club members, civil society leaders, member organization representatives, and hospital owners.
Lebanon
The Children's Cancer Center of Lebanon (CCCL), a national reference for the treatment and support of over 50% of children and adolescents with cancer in Lebanon joined efforts with the WPA on 17th September to commemorate the WPSD 2021. The CCCL developed an engaging video promoting public awareness about medications safety, highlighting the "5 Medication Rights" for patients: Right drug, Right route, Right doze, Right time, and Right person.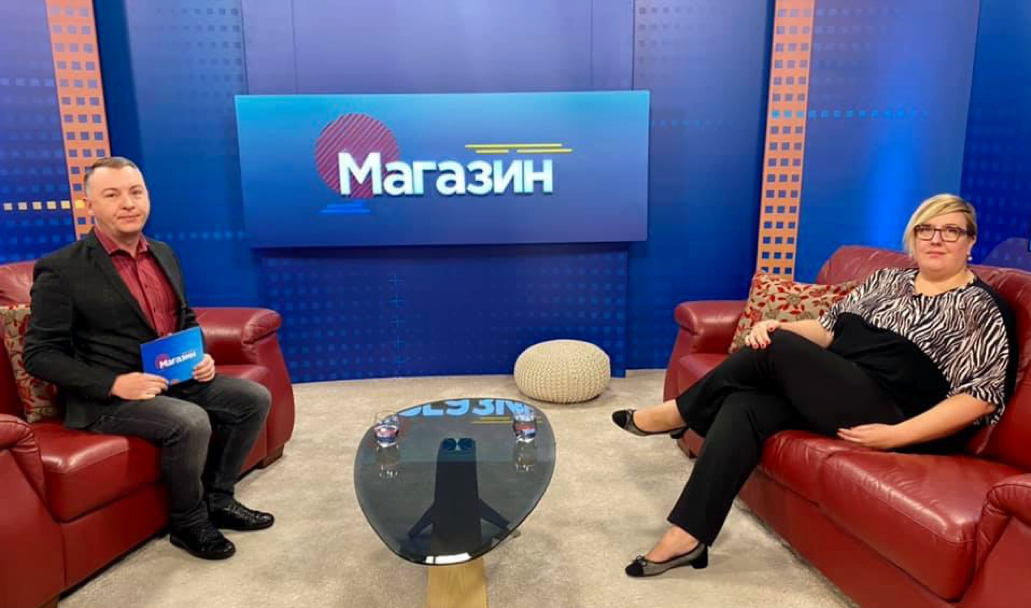 North MAcedonia
The Association HEMA for help and support of patients and caregivers with hematological diseases in collaboration with WPA marked the WPSD by organising a virtual event and social media campaign in Macedonia. The social media campaign was run on social media channels including Facebook, Instagram, Linked In, YouTube channel, TV stations and other electronic media.
Greece
The WPA member from Greece, Hellenic League Against Rheumatism (ΕΛΕΑΝΑ) orgnaized a webinar on safe maternal and newborn care to commemorate the WPSD. The webinar was held in Greek language and was attended by patients, healthcare providers, journalists, and the community. Speakers of the webinar included a gynaecologist and a health visitor, who spoke on maternal and child health care issues faced during pregnancy, child birth and postnatally.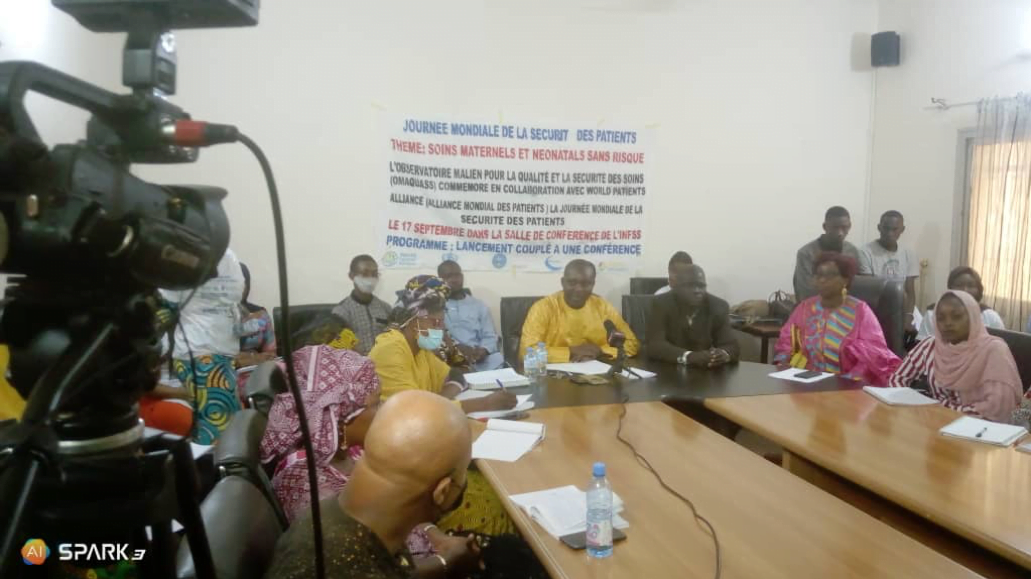 Mali
The Malian Observatory for the Quality and Safety of Care (OMAQUASS) with support from WPA commemorated the WPSD 2021 at the National Institute for Health Sciences Training, Mali.  The event aimed to build awareness among health professionals, patients and community and to seek their commitment to carry the message of patient safety back to their local communities.
Uganda
Awareness Sessions
On September 7-8, 2021, CHAIN with the support of Uganda Alliance of Patient Organisations (UAPO) and National Drug Authority (NDA) conducted sessions at two government health facilities. The two-day activity attracted 85 participants who included 40 health workers (doctors, nurses, midwives, lab technicians), 20 pregnant women/mothers, 5 men (husbands), and 20 Village Health Teams (VHTs) from Namulonge and Komamboga Health Center IIIs.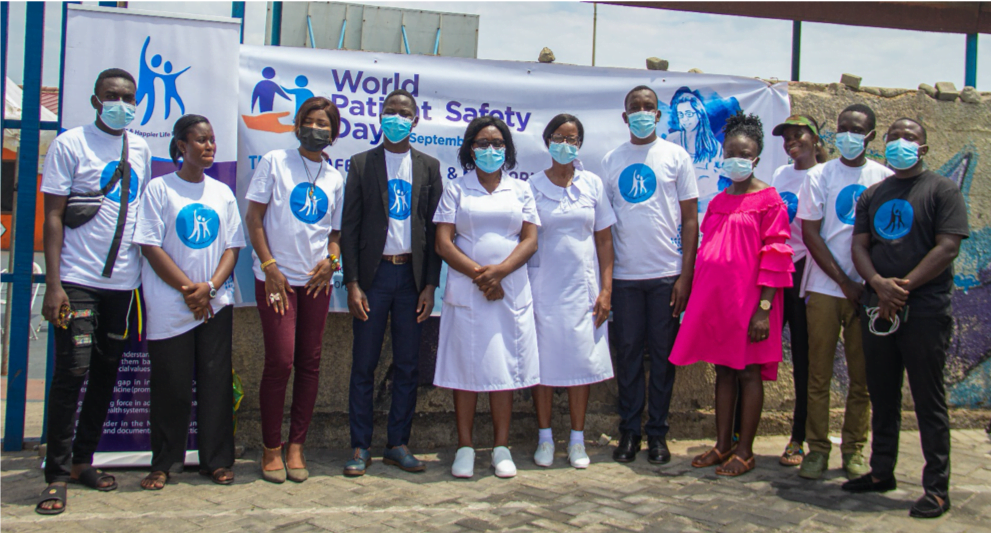 Ghana
Awareness Session and Street Theater
The Healthier & Happier Life Foundation (HHLF) in collaboration WPA commemorated the WPSD in Accra, Ghana by organizing an awareness session and street theater on patient safety. In the downtrodden community of Jorge town, this street theatre (drama) was presented to the people in simple language.
Malawi
WPA member from Malawi, The Women's Coalition Against Cancer (WOCACA) organized an event to commemorate WPSD at the Malawi National Cancer Centre. The event was organized in collaboration with the Ministry of Health and was held in conjunction with a session organized to acknowledge a donation received to help cancer patients live a life with dignity despite the physical side effects and symptoms of the disease.
Cameroon
ASPA in Cameroon organized events at maternity wards of two hospitals which included Mamfe Urban Integrated Health Center and New Life Clinic maternity ward in Mamfe.  Young mothers were informed about the dangers signs if pregnancy and during neonatal period. Covid 19 kits were distributed to the maternity wards.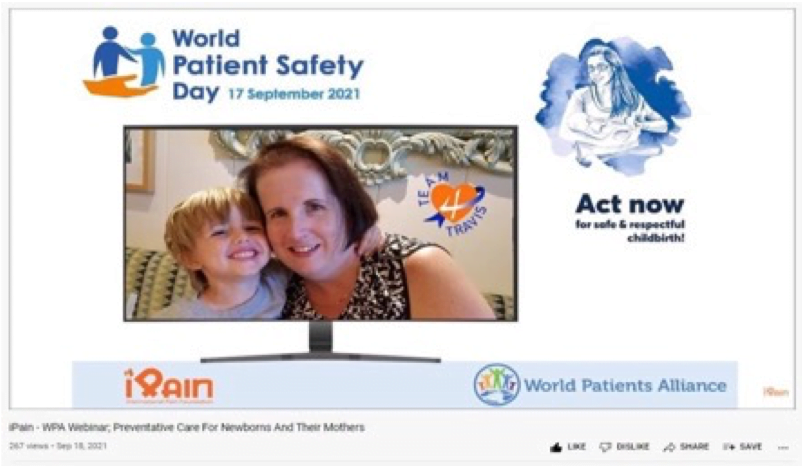 United States of America
The International Pain Foundation, a WPA member from the United States of America organized an online digital webinar on preventative care for newborns and their mothers on September 17, 2021, the World Patient Safety Day. Attendees included mothers of newborn babies, couples planning to become parents of a newborn in the coming years, and those just wanting info on the topic.